Awards
Lifesaver Award
OHIO ASSOCIATION OF CRIMINAL DEFENSE LAWYERS
DONALD C. SCHUMACHER LIFESAVER AWARD for
EXCELLENCE IN DEATH PENALTY LITIGATION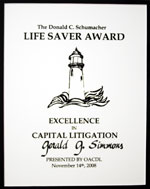 Don Schumacher, a long time criminal defense lawyer in Columbus, lost a long battle with cancer in September of 2007. At the time of his death Schumacher was President of the Ohio Association of Criminal Defense Lawyers.
Among his many achievements as a criminal defense lawyer, Don was most proud of his achievements and record in capital trials. Only one of his clients was sentenced to death out of approximately thirty trial level capital cases. Don shared his knowledge and experience with other attorneys, organizing death penalty seminars for OACDL and speaking regularly on death penalty and criminal law topic throughout the state. Don as was also a tireless promoter of OACDL - constantly encouraging attorneys and others to become members of OACDL.
To honor Don's long service to the OACDL and to recognize his significant contributions to the defense of indigent defendants facing the death penalty and his services in teaching the criminal defense community about the latest ideas and techniques, the OACDL has created the DONALD C. SCHUMACHER LIFESAVER AWARD for Excellence in Death Penalty Litigation. This yearly award is designed to recognize outstanding achievements in avoiding imposition of the death penalty through trial excellence, mitigation investigation and presentation, as well as appellate and post-conviction litigation, and education. The Schu Award will recognize significant achievement in a given year as well as lifetime achievement.
2011 Recipient: John Parker
2011 DON SCHUMACHER LIFESAVER AWARD
EXCELLENCE IN DEATH PENALTY LITIGATION
My Pal Parker (presented by David Doughten)
John Parker was born and raised in tropical Belpry, Ohio, located on the north-cental side of the mighty Ohio river. He spent his youth playing baseball in the city, chasing errant throws between the chemical plants located along the river. He attended undergrad at The Ohio State University (it was known only as Ohio State back then) and law school at Case Western Reserve University in Cleveland.
I first met John (hereinafter Parker. Most of his friends do not know that he has a first name) when he became a law clerk in the Cuyahoga County Public Defender Office too long ago to admit. He was a 135 pound left fielder (he says 125, but I am skeptical) with a good glove but not much power. He clerked at the defender office for a couple of years before becoming a staff attorney with the general trial division. It was there, in the infancy of Ohio's death penalty litigation, that Parker began to hone his skills as a capital litigator.
John tired of government work after a few years. Needing only to feed his beloved dogs Foster (named after the beer) and Crosley (he is a die hard Reds fan), he took the plunge into private practice. He set up shop in a back office of a 120 year old building under repair, renting from slum landlords (me, for one). Ducking the water dripping through the walls and ceiling when it rained (you get what you pay for), Parker somehow managed to build a practice.
Working solo, Parker used his defender experience to become quite skilled in all facets of capital representation; trial, direct appeal and habeas litigations. He represented numerous clients on direct appeal, preserving issues that lead to later victories in federal court (eg., Wiley Davis) and achieving the almost impossible task of convincing the Supreme Court of Ohio to reverse on a Brady claim (Vernon Brown). Both clients later resolved their matters without a death sentence. Therefore, these were more than pyrrhic victories.
Although not a regular campaign contributor to judicial candidates, Parker nevertheless managed to try two capital cases to an acquittal in Cuyahoga County over the years. His growing reputation with at least some of the court lead to his being appointed to the Anthoney Sowell serial killer trial this past year, also in Cuyahoga County. Parker was able to convince the trial court to at least come close to providing for his experts. The judge took a lot of heat for this. As the result, Parker and co-counsel Rufus Sims were not paid for the last eight weeks of trial, as the budget was said to be tapped out. Of course, they were not told that they would not be paid until after Sowell was sentenced to death.
Despite the uncertainty of his being paid, Parker and Rufus provided Sowell as good of a defense as could have occurred under the circumstances. In the face of extremely heavy median coverage, the defense again and again challenged the state's presentation of evidence and challenged the court and prosecutor to meet constitutional standards in the state's attempt to convict and sentence Sowell to death.
Parker is appealing the denial of attorney funding to the Supreme Court of Ohio, again placing himself in the forefront of litigation on an issue which will benefit us all. This would not be the first time he took such a risk. Parker and Tim Sweeney were main players in the lethal injection §1983 challenges before Judge Frost. The two cris-crossed the state, taking depositions in discovery to set the foundation for the litigation which remains in litigation, again with no assurances of being paid.
The key to Parker's success is his ability to think outside the box, or maybe it should be stated as his inability to think inside the box. That is a benefit rather than a liability in this business. On many a day or evening I would receive the "does this pass the laugh test" call from him. Many times it did not. But more than once it did.
On one such occasion he related that he had been discussing an off-the-wall issue with Kort Gotterdam at a party. He had seen an obscure case which seem to indicate that a jury waiver was not valid if it were not filed with the clerk of court before the commencement of trial. Kate McGarry and I were working on a jury waiver case. We checked, and sure enough, the waiver had not been filed. So what the hell, we threw it in the brief of State v. Carroll Dean Pless, who was on death row. We actually argued over who had to raise the issue at oral argument. I won. Kate argued. Carroll Dean Pless won and was given life after a new trial.
Congratulations Parker. No one could be more deserving of the Donald C. Schumacher Life Saver Award. Keep thinking out to the box. It is what makes you so good and helps all of us help our clients.
Past Recipients
JOHN PARKER
---
DAVID DOUGHTEN
---
KAREN ROBERTS

---
GERRY SIMMONS