Complete Story

2009 Lifesaver Award Recipient - Karen Roberts
KAREN ROBERTS
2009 DON SCHUMACHER LIFESAVER AWARD
EXCELLENCE IN DEATH PENALTY LITIGATION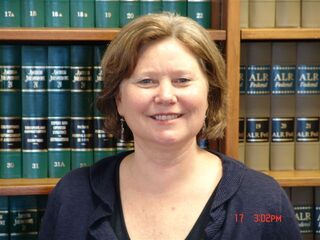 Karen Roberts has been a social worker/mitigation specialist with the Franklin County Public Defenders Office since 1983 - back in the days when we had little idea about what mitigation was all about. Without any fanfare or official recognition Karen has devoted her lengthy career to assisting attorneys save the lives of their clients in increasingly difficult situations.
Since then Karen has been involved in the investigation and preparation of mitigation in 72 cases - mostly for the Public Defenders Office, but also in at least 10 cases where she worked for private counsel assigned to the cases. In 18 of those cases, the client was convicted at trial and went to a penalty phase trial where the issue became whether sufficient mitigation could be presented to convince the jury to impose a life sentence. In all 18 of those penalty phase trials, the jury returned a life verdict. This is a remarkable record. 18 and 0.
Of equal importance to winning all 18 of the penalty phase trials, is the number of cases that did not make it to a penalty phase trial. 54 of the 72 cases were resolved short of a penalty phase trial - most to pleas before trial. As you all know (or should know) the development of compelling mitigation is often the final element that pushes the prosecution into a plea agreement for a life sentence. Karen's work in investigating and developing mitigation has been instrumental in forcing cases into pleas.
Franklin County has become a very difficult place for the state to obtain a death sentence. The prosecutor seldom takes cases to death penalty trials because death verdicts are so rare. Much of this is due to the high standard of practice that has ben established by the trial bar in this county. Karen's work has been instrumental in permitting the trial lawyers - both at the Public Defenders Office and the private bar - to have an extra bargaining chip in resolving potentially capital cases short of trial. Franklin County juries no longer return death verdicts - so why bother going through the motions.
A couple of examples of Karen's successes: Toby Wilcox and co-defendant broke into drug dealer's apartment, killed him, shot his girlfriend several times, and shot off half the head of her 1 month old baby. Ugly facts. Wilcox was from a gang-infested area outside of Chicago. Family from Chicago area but had moved on (or were in prison) Karen accumulated every conceivable record and eventually got through to his mother and developed a relationship with her. Mother, and ex-girlfriend (and her small son) appeared at the penalty phase and ultimately swayed the jury to impose a life sentence. The lawyers praised her "highest degree of professionalism" and her "extraordinary efforts were instrumental in saving Toby's life."
Quarran Covington - charged with killing his best friend and the friend's best friend who had driven in from Atlanta for a drug deal. Both were shot at point blank range. Karen collected all of the records and in reviewing the records - discovered a teacher/football coach that had befriended Covington in the 9th and 10th grades. The teacher was convinced to come and testify at the penalty phase and make a compelling case for life with otherwise relatively thin mitigation in a bad factual case. "The verdict would not have been possible had Karen not dug through this guy's background to find something helpful and then continue to work with counsel through to the bitter end."
We all know that the difference between a jury's recommendation of life or death is complex and dependent on many factors. To the attorneys who have worked with Karen, the results have depended on the hard-work and diligence of Karen Roberts in digging up the records, in finding the family and friends who can bring some positive mitigation forward in even the worst cases. The attorneys in Franklin County have come to rely on the diligence and creativity of Karen Roberts.
So in the somewhat short tradition of this award, it is only fitting that we present her with this year's Don Schumacher Lifesaver Award for her long term and ongoing efforts in saving the lives of so many Franklin County defendants and in making Franklin County so intolerant of death verdicts.
---