Complete Story

2008 Lifesaver Award Recipient - Jerry Simmons
JERRY SIMMONS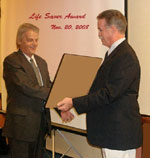 Gerry Simmons has been a practicing criminal defense lawyer for nearly forty years. During the last twenty-seven years since the death penalty was re-enacted in Ohio, Gerry has become one of the leading - if not the leading - death penalty defense lawyers in Ohio. He has traveled outside of Columbus to try cases all over the state. At one time he had a whole office full of attorneys who were willing to travel and try these cases.
Gerry is legendary in local courtrooms for his tenacity in making a point and in representing his clients. He is fearless. Few things that occur in a courtroom miss his attention - or his objections - and his objections are tenacious. Every point is argued and every point is re-argued until the point is won or the record is clear - or the judge and prosecutor are worn down.
Gerry is well respected on both sides of the aisle. At a recent event in his honor I was amazed at the number of prosecutors and judges who attended - at tribute to the respect that he has earned in the legal community.
But this award is in recognition of his death penalty work.
I was fortunate to first meet Gerry back in 1982. I was working at the State PD's Office. Young - trying to learn how to do capital trials. I was able to work on consulting on a local case with Gerry as well as his good friends - and also legendary lawyers - Gary Schweikart and Jim Kura. The legal thinking among those three was astounding.
Later, I was fired by Jeff Thompson in an ugly case in Licking County. Randy Dana suggested that we get Gerry to take over that case. Over the next year I watched and learned by watching Gerry handle Judge Neil Laughlin, the prosecutor, and Jeff Thompson. Ultimately the jury sentence Thompson to death, but it was reversed on appeal - based on an objection Gerry made to the prosecutor's closing argument and to the admission of gruesome crime scene and autopsy photographs - projected on a screen in the courtroom.
During voir dire in that case, Judge Laughlin got down off the bench while Gerry was conducting individual voir dire and came and sat next to me in the audience to talk about Gerry's performance in voir dire. He just let Gerry run the courtroom during voir dire.
Several years later, Gerry and Lew Williams tried an ugly death penalty case in Perry County. Their outsider clients were charged with killing two local folks at a campsite. Strong local prejudice against outsiders. Jury verdict of not guilty on all counts. Practical riot in the court house. Gerry and Lew had to take refuge in chambers and eventually be escorted out of the county by the Sheriff.
The most recent case I worked with Gerry was John Parsons - in Ross County. Parsons was charged with shooting a beloved off duty police officer while fleeing from robbing a gas station. Community outrage. John then escaped from the Ross County jail - and was on the run for 84 days. You all saw pictures of police officers with dogs out in the 95 degree summer tromping around the woods looking for John.
Despite that and despite his lengthy tearful admission to shooting the police officer at the time of his original arrest, we were able to work out a plea for life without parole plus. Not attributable to any brilliant legal tactics on either of our parts.
At the plea and sentencing hearing, the courtroom was packed, not only with the victim's family members but hundreds of uniformed and plain clothes officers from all over the state and country. The plea had been kept secret until the last minute. No one knew of the "statement" that John had made. It was a remarkably tense scene.
Gerry stood up and made a passionate plea on behalf of John - based almost entirely on John's own words in his confession. He managed to speak John's words in John's voice without making John try to do it again - which he would not have been able to. Very moving.
There are hundreds of other cases and stories. But I really want to focus on Gerry's contributions to the art and science of voir dire in capital cases and to teaching the rest of us how to fight for individual voir dire - how to conduct voir dire either individually or in a group - and how to assess the jurors and intelligently exercise peremptory challenges.
Watching Gerry conduct voir dire is remarkable. He carries on a conversation with the juror as if they are old friends. Yet there is a pattern and plan to the questioning so that at the end you have a relatively complete picture of the jurors and which will be better than others for your client. It is a great process. I have conducted several voir dires with Gerry and learn more every time.
Gerry has also been willing to share his knowledge and expertise with the rest of us. He has taught at many of these death penalty seminars. He has taught voir dire procedures at criminal law seminars throughout the state and country. When Arizona was told a few years ago that it could not leave death sentencing entirely up to the judges and that it had to have jury sentencing, they asked Gerry to come out and teach them how to conduct voir dire in a capital case and what to look for in a jury in a death penalty case.
Gerry has also been instrumental in developing the juror questionnaires that most of us use as well as the juror assessment forms that are critical to evaluating the jurors.
Gerry has also been willing to meet individually with lawyers to assist them in preparing to conduct voir dire - as well as to try the case. This is an immeasurable assistance to young or less experienced lawyers facing trial in a death penalty or any other criminal case. As we have seen over the years the most important part of a trial is selecting a good jury.
For all of these reasons - and for Gerry and Kathy's not inconsiderable contributions to the mental health of the criminal defense community of Franklin County and Ohio by opening their home to our relaxation and entertainment - I would like to present the 1st Don Schumacher LifeSaver Award to Gerry Simmons for his lifetime commitment to and achievement in death penalty defense.
A. Trial and Mitigation: Recognize significant achievement in avoiding the imposition of a death sentence at trial either through plea negotiation or acquittal of aggravated murder or the capital specifications at trial or through the development and presentation of mitigation at trial or in the plea process in a given year.
B. Trial and Mitigation Developments: Recognize the discovery and/or development of new and creative strategies for defending a capital case and/or for mitigating a sentence of death and educating the defense bar about the new strategies/developments in a given year.
C. Appellate/Post-Conviction/Habeas: Recognize significant achievement in obtaining relief for death row inmates on appeal, in post-conviction, in habeas, or through clemency in a given year.
D. Education: Recognize significant accomplishments in presenting new and creative litigation strategies to the criminal defense bar through the OACDL seminar or otherwise in a given year.
E. Lifetime Achievement in the defense, mitigation, or appellate/post-conviction/habeas fields or in the education of the defense bar in capital litigation.
---