Complete Story

Brian Jones Recipient of Inaugural OACDL Courage Award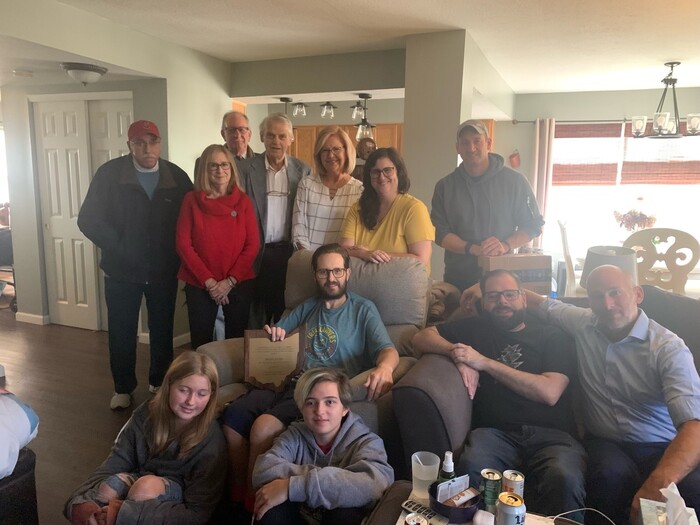 In 2007 when he was an assistant public defender in Portage County Brian Jones refused to take a case to trial after having been assigned to it less than a day before. He felt he needed more time to talk to witnesses and explore whether his client had an alibi defense and prepare the case as he would want a lawyer to do for him were he on trial. The judge who sat in judgment of him wasn't willing to listen to reason and he was held in contempt and sentenced to jail. His case was taken up by the OACDL and ultimately justice prevailed for him.
Since then Brian went on to have an outstanding record of criminal defense advocacy and service to others in our association as others were for him so many years ago. Unfortunately time and circumstance has not been of justice to him. So rather than wait for a day that may not be there for him because of serious health problems the awards committee of the OACDL decided to present Brian a special recognition award that honors him for his career's work.
Accordingly on Friday, October 28th Brian was given this award at his home in Delaware, Ohio. Present was his wife and fellow OACDL member Elizabeth Osorio, OACDL president Dan Sabol, immediate past president Jerry Simmons and his wife Kathy Koch, president elect Joseph Hada, Harry Reinhart, membership and close friend Zach Mayo, and Executive Director Susan Carr, as well as his spiritual adviser, his hospice nurse and two of his daughters Sydnie and Taylor. His dog also made a cameo appearance.
Brian at first thought that we all came to say goodbye, but discovered instead that we all came to say hello and to honor him for his career's work. It brought tears to his eyes. He then told the story of that consequential day in 2007 when he found the courage to stand up to a very intimidating judge and do what he felt was in the best interests of his client and in the best interests of justice. He felt so anxious and alone on that day but discovered soon enough that he had lots of friends and allies that he never knew existed.
In the future the awards committee will present a special recognition award from time to time to a deserving member who has had a special profile in courage moment in a courtroom or an accomplishment worthy of honor. On Friday, October 28th Brian Jones was told before we all left his company that in the future these awards will be named after him so every recipient of them will know who he is and why these are so prestigious given who the first recipient was.
---